Breanna & Jim
Hoping to Adopt
(Texas)
Letter
Introduction
---
Our prayer for you is that you feel that "This is the family. I know it!"
---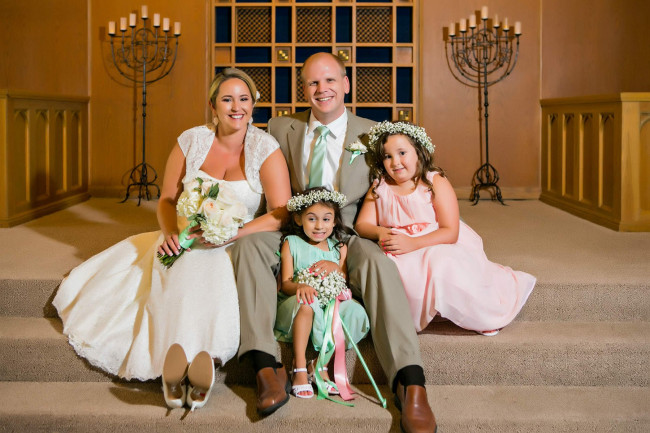 our wedding day
We are Breanna and Jim. We are happy you are reading our letter and honored to introduce ourselves. We have three children and would like to add one more to our family to complete it. We want to be our true and authentic selves, with hope that we speak straight to your heart. We want you to feel like you know us and our family, in order to feel confident that you are making the right decision during this difficult time. Our prayer for you is that you feel that "This is the family. I know it!" We hope you connect with our love of music, travel, laughter, games, and adventure. We want you to know that this child will be smothered with our love. We promise you they will always be kept safe and education will be a priority. Your child will always be loved in our home. We are hopeful for an open adoption, if you are comfortable. If that changes over the years, we will ebb and flow with you because you are an important part of our life and this child's life. We are so grateful to you already and want to respect what makes you feel at ease. We are here to answer any questions if you want to get to know us better.
Our Love Story
---
We both grew up with humble beginnings...
---
New York City subway- It's our favorite city.
We got married in May 2016, our girls were four and six at the time. We both felt from the first date that we had finally met "the one." We talked every day and would facetime every night before we went to bed, until we finally got married. When it came time to introduce our girls to each other, we accidently ran into each other at a grocery store and another time at a water park. It helped ease the girls into comfort with each other because they felt like they already met. We are best friends. We keep each other laughing, but mostly it is Jim making the kids and Breanna laugh. We play a lot of games with each other, mainly cribbage after the kids go to sleep. We are both highly competitive and don't let anyone in the house win; you have to earn the win. Our relationship is built on honesty and we do not keep secrets from each other. We are very close and it's important to us that our children see an example of what a loving, happy marriage should look like. We both grew up with humble beginnings and now we are both independently successful. We feel like that connects us in a way that keeps us humble and never losing sight of being grateful for the many blessings in our lives. We have more than either of us could have imagined. We often sit in bed at night and talk about what it was like in our childhood and how we are overcome with gratitude for where we are today. After coming out of difficult marriages, neither of us thought we could be this happy in love. We have to pinch ourselves.
Why Adoption
---
It is not uncommon to hear our daughters arguing over who is more excited
---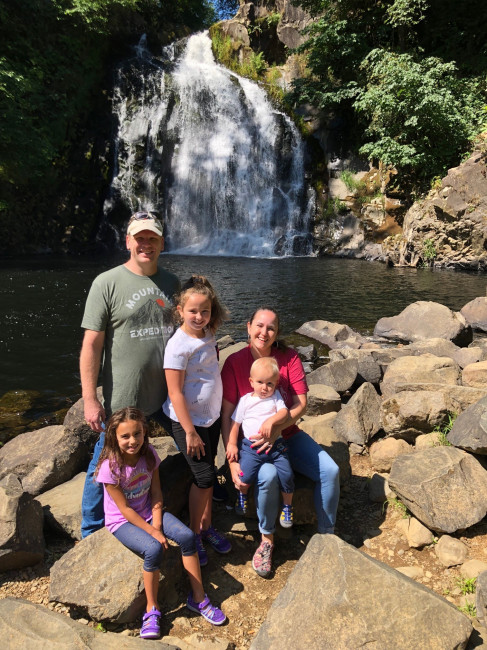 Hiking in Oregon
We are blessed to have three biological children. Each of us have a beautiful daughter from before our marriage. Before we ever got married, we both expressed how we wanted to grow our family. Shortly after our marriage, we started trying to have more children. After a year of trying, we saw a fertility doctor and with his help got pregnant on our first attempt and that brought us Tucker. After his first birthday, we tried again for over a year with our fertility doctor to do multiple IUI and IVF but we are advised that getting pregnant again was unlikely. We had been talking about the possibility of adoption before we had Tucker. We mourned after we learned we wouldn't have any more biological children, but we weren't ready to give up. We knew we still had room in our hearts and room in our home for another baby. Both our girls want another little brother or sister and we want Tucker to have someone closer to his age to grow up with too. Plus, there are a lot of cousins being born right now; they can all grow up together. We talk about and pray for the child you are carrying each and every day and have for a long time. We pray that you choose us to raise that child. Our children are the same way – completely bought in to the plan. They can't wait to meet their baby brother or sister. It is not uncommon to hear our daughters arguing over who is more excited or who is going to teach the baby how to walk, talk, ride a bike, etc. It is fun to talk about with them and somedays it is hard to tell who is more excited, us or them.
Hobbies
---
We love to travel with the children and to show them the world.
---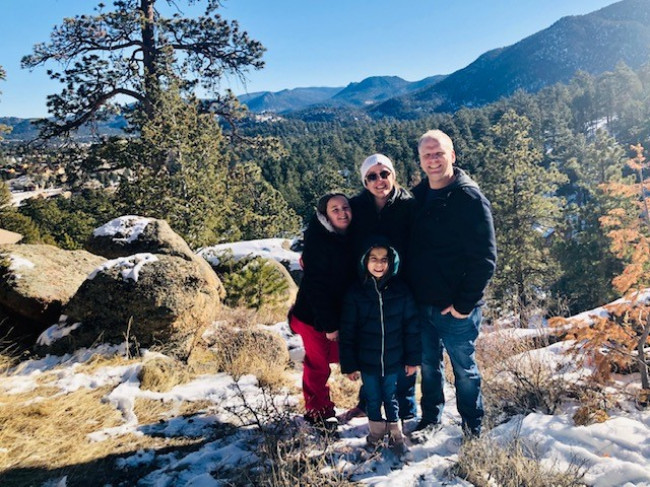 Estes Park, Colorado
We love going to our children's sporting events and school activities. During the summer, we often end up at a swim meet where we can set up our canopy outside and make a day out of it. Volleyball, basketball, and soccer are more of our favorite activities. When we don't have a planned activity, we like to spend our day outside in the pool or jumping on the trampoline. This past spring brought the first camping trip for Jim and the girls and we hope there are many more of those! We love to travel with the children and to show them the world. Our family trip last year was to Oregon. We take frequent trips to Colorado to see Breanna's brother and niece and all of Jim's immediate family live near Estes Park. Breanna cannot wait to teach them to ski someday soon. We all enjoy the beach and the relaxed pace of life it provides. Music is huge in our house! It's rare that we don't have something playing on the speakers in our house. We plan to expose our children to all kinds of music and to take them to concerts because we love live music. We took our girls to their first concert last year and it is just the beginning.