Jessica & Brad
Hoping to Adopt
(Texas)
Letter
Dear Expectant Parent
---
Let us start by saying thank you for taking us into consideration in this adoption process!
---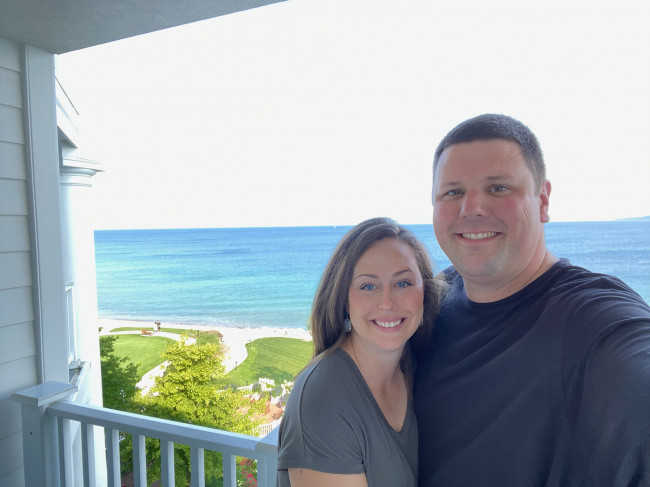 rust in us that we believe your child is blessed to have you, and your family in their life and will be proud of you for the decision you are making.
We are so excited to start our family through adoption! We have been married since 2015 and have tried for a baby ever since, including our struggles with infertility which resulted in two miscarriages. Through the journey of infertility, we have remained strong knowing that our goal is to have a family, and that God would lead us down the right path. Our belief is to provide unconditional love and support while providing a strong foundation for future success to our children. Both of us were blessed to experience great childhoods, and plan to create many amazing memories, and once in a lifetime opportunities with our family soon. We have a lot of love to give and a strong desire to have a family. Through prayer and guidance, we've been led down the path of adoption and we couldn't be more excited!

The Story of Us
Our story began in February 2013 when we met on match.com. Our first date was at a golf course driving range. We both have a golf background and so we decided that would be a fun first date. We instantly hit it off and as they say, the rest is history. Our dating life included a lot of activities - playing golf, playing games like darts, shuffleboard, card games, going to Dave and Busters arcade and traveling. We still have only seen about 3 movies together in the theatre as we prefer doing activities instead. We have fun together and enjoy each other's company. Our families even get together regularly for holidays and birthdays with each other. We have family both close by and across the country.

We love to travel together and enjoy new experiences wherever we go. We believe one of the keys to our relationship is to make things fun, smile and laugh together a lot. We approach all things through communication as a team and with a positive mindset which has contributed to the success of our relationship not only in marriage but in our business together.

We dated for 1 1/2 years before getting engaged in December of 2014. Our engagement was very special - Brad asked me to marry him with a Christmas ornament that was hand painted in his home town in Michigan. It said, "Jessica, will you marry me?" on it and he proposed in front of our Christmas tree at home. Christmas and the holidays have always been so important to us and that ornament hangs on our tree every year.

We were engaged for just under a year and got married in August 2015 in The Catholic Church with our families and close friends in attendance. Our Faith has been at the center of our relationship ever since we started dating. Brad converted to Catholicism about a year after we met. It's important to us that we have also continued dating into our marriage as well. Every Friday night is date night and we are always coming up with something fun to do and it's nice to unplug and talk about life and catch up with each other.

We started working together full time in 2018 when Brad came on board with the business I started in 2016. This has presented a new set of challenges that we've been able to communicate through and work through and ultimately has afforded us with the ability to have a flexible schedule and to be successful not only in our business but in our marriage. Our marriage is stronger as a result! We have a team of people who are supportive of us in our business and we can rely on them to help whenever needed - we all work together for a common goal. They are as equally as excited for us to begin our family as we are. We have continued to play golf together as a shared passion and joined a local country club in 2021 where we have made new friends and have even competed in the couple's club championship!
Meet Jessica
---
I love to surprise people and show my gratitude for people.
---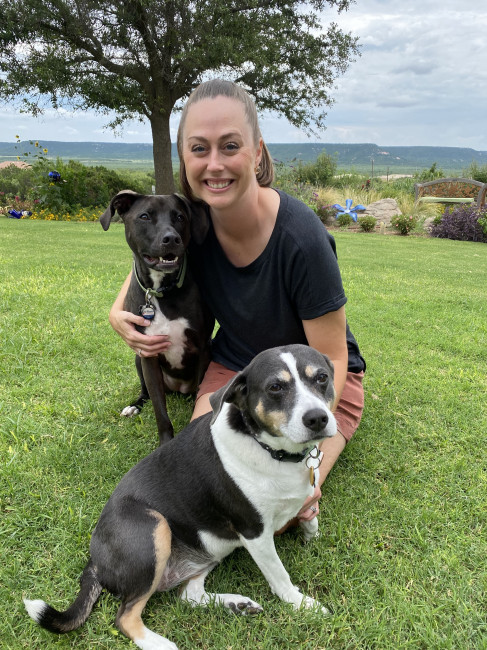 Driven | Compassionate | Loving
I grew up in a town of about 120,000 people in West Texas. I had an amazing childhood and my parents, friends and Faith in The Catholic Church impacted me greatly. My parents were both entrepreneurs and I learned from a young age what hard work was and how to treat other people. Dinner at the kitchen table every night was a staple in our house and we had just as much fun at Disneyworld in the big moments as we did having pizza and popcorn on a Friday night at home for the small moments.

I played tennis and was in the band (played clarinet) and was in the flag corps. My Dad suggested that I consider the game of golf when I was 14 years old. He taught me how to play himself and I played in high school and then was fortunate enough to get a college golf scholarship. I played throughout college and I went to the NCAA National Championships my senior year and was an All-American golfer and Academic All-American golfer. My parents were able to come to almost all of my tournaments in high school and college and having their support was very important to me.

Ever since I can remember, I've always had a love for animals. Even pictures of me as a little kid, there were always animals! Animals are still very important to me today and play a big role in my life. I love to watercolor paint, work in the garden, read and do crafty-type things around the house like decorating. We enjoy entertaining our family and friends at our house and spending time outside in the pool or at the golf course.

When Brad and I met, I knew he was the one when he kept me interested, entertained and always on my toes! He is loving, kind, patient and truly my rock. I feel so fortunate to get to spend this life with him and I feel like we make a great team. My heart explodes when I think about how much he loves me and how much I love this life that we've built together.
Meet Brad
---
I have a quick sense of humor and not afraid to laugh at myself.
---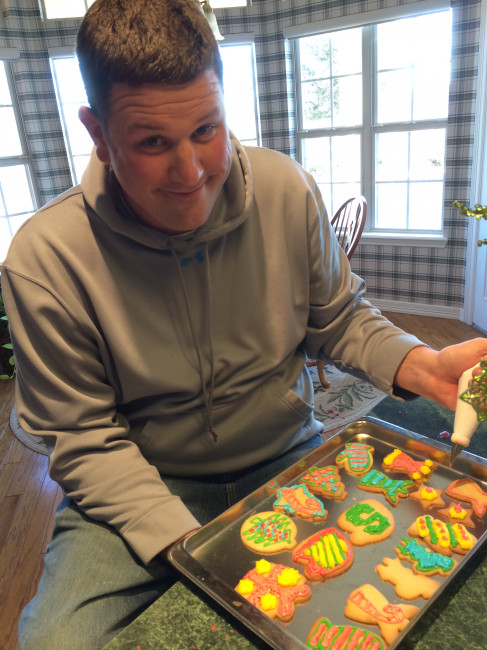 Supportive | Passionate | Funny
I am from a small town of less than 4,000 people, the type of town where the local diner knows your Saturday morning breakfast order when you walk in. My family taught me the value of hard work, respecting others, doing the right thing, and that you have to earn your rewards.

I have always had a great relationship with my family including my parents and younger sister, that relationship continues to grow as we've gotten older. My parents worked very hard to make sure that we never needed for anything, we always had support for what we wanted to do to be successful. The times we spent together at sporting events, summer weekends on the boat, trips to Disney World, and our special holiday traditions are all things I'm excited to repeat for my family someday!

I grew up loving sports for as long as I can remember & still have a passion for it to this day. When I finished college, I started my career path in golf with the PGA Championship. Working with them allowed me to work all over the country & to create memories of a lifetime which I'm forever grateful for.

In 2010 I moved to what would become my new home, and in 2013 I met the love of my life, Jessica. We met online in February 2013, I knew the first time I saw her that I needed to do everything I could to keep her around. We instantly connected and have only gotten closer throughout our relationship.

Life with Jessica has been the greatest gift I could ask for and I love her more each day! We don't say I love you, we say love you more. We love to do things together from playing golf, enjoying meals, and watching tv on the couch all night. As long as we are together, it's easy for us to enjoy the moment and love the life we live!
Before You Go
---
We promise to ensure our child knows about the choice you made and how much you love them.
---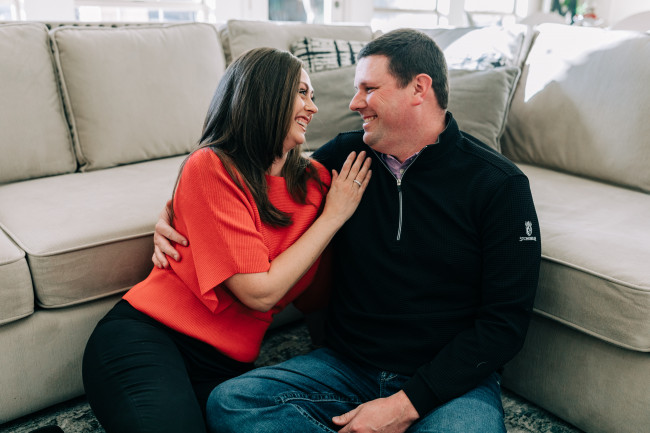 Thank you for considering our family!
Thank you for taking the time to learn more about us and what makes us who we are. We promise to give our child all the opportunities in the world to learn, grow and have amazing experiences while also cherishing the everyday moments. We promise to instill respect and discipline, boundaries, the meaning of hard work and compassion for others. We promise to keep God at the center of our marriage and our child's life and a strong foundation in The Church. We are committed to education and will make sure our child has the best opportunities to learn and grow throughout their life. We plan to encourage our child to try all kinds of activities, sports, theater, music...whatever is interesting to them. We will do our best to learn about those activities to support them in their endeavors, teach them commitment and why finishing what you start is important and how that will impact them throughout their life. We promise to be fair in our parenting decisions.

We promise to ensure our child knows about the choice you made and how much you love them. We promise to have a relationship with you as much as you are willing to do with us. We promise to educate them as much as we can on their background and provide them resources and support any time they need them no matter what their needs are.

We promise that our child will always know that they are included, wanted, special and loved. We don't promise that it's going to be perfect, but we do promise to have fun, laugh and approach parenting with a sense of humor and unconditional love.

Jessica & Brad