Parenting and exploring adoption for your child?
You love your child, and you can choose the life you want for him or her
Sometimes life becomes overwhelming and parents are unable to provide the life they want for their children. Whether you just delivered or have been parenting for awhile, adoption is still an option. You have choices.
Benefits Some Parents Have Seen by Placing Their Child for Adoption
Ability to choose a family they love to adopt their child

Protecting their child from going into the foster care system

Have a relationship with their child after adoption

Choose the life they want for their child

Support from other birth moms who have been through similar situations

Support from an adoption counselor
Our Process
1

You can talk with an options counselor about your needs and how we can help.

2

You can learn about open adoption and your choices

3

You can speak with a birth mom who has already placed a child for adoption.

4

A compassionate counselor can help you develop the best plan for you.
5

You can choose a family you love to adopt your child.

6

You can receive counseling and lifelong post-adoption support.

7

You can continue to have a relationship with your child after adoption.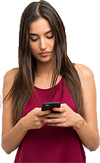 As Seen On