Are you contemplating placing your child for adoption with a Christian adoption agency but unsure if it's the right choice? Do you want more information on Christian adoption services? Find answers right here!
What Does Christian Adoption Mean?
According to Ephesians 1:5, Christian Adoption Services has "predestined us unto the adoption of children by Jesus Christ to himself, according to the gospel pleasure of his will." This verse means if you identify as Christian, you want to look into this type of adoption. Many birth mothers caught in the upheaval of unplanned pregnancy might think they are not worth the use of Christian Services once they have decided to place their baby for adoption.
What are the Different Types of Christian Adoption Services for Birth Parents?
Once you have decided to place your baby for adoption using a Christian adoption agency, you'll want to know the different kinds of services provided to you. These agencies can provide you with Christian adoption services that are better suited to what you are looking for when it comes to the family you want. The Gladney Center for Adoption is not solely Christian-based but works with birth parents from all walks of life. Some of the services that Gladney offers are: 
Assigning you a caseworker: Gladney assigns a caseworker who shares your beliefs. Your caseworker's job is to help you through the next several steps to come. They gather all the pertinent information to aid you in finding the family to be your baby's forever family. They put together a file containing all the applicable data so they can better serve you throughout your adoption journey. Gladney Center for Adoption employees are there to make your decisions as easy as possible. If the caseworker assigned to your case does not work for you or with you, they will gladly assign one better fit for your situation. 
Counseling: Gladney provides counseling for you as you navigate the unfamiliar aspect of Christian adoption services. Hopefully, the counselor you're paired with shares your Christian values or understands their importance enough to aid you in working through the grieving process that you are sure to experience. 
Denial: Denial is something you might experience several times throughout your adoption journey using the Christian adoption services the Gladney Center for Adoption provides. Denial is, in some ways, pretending that what is happening is not. It is not wanting to face the reality of your situation.
Bargaining: Being Christian, you believe in God and that family is important, which is why you chose adoption for your baby rather than abortion because Christians are generally pro-life. They do not believe in killing a fetus. So, as a birth mother, you might find yourself wanting to make a promise to God that if He would take away the feelings, you would place your baby for adoption, which you know you must do.
Anger: Working through with your counselor, you may find yourself angry. So, angry that they allow you to vent that anger during your sessions. Anger is the emotion that masks hurt, and you could very well feel hurt– hurt because you are in this predicament in the first place, hurt because the birth father has made himself scarce, leaving you to make this decision alone. That is one thing about your belief system as a Christian; you are not alone because God is always there. Hang onto that.
Depression/Isolation: Despite your beliefs and speaking with your counselor, you may find yourself entering into depression, wanting to hide under a rock, and never come out. You may find that you have lost interest in doing things you once loved, for example, reading the Bible. You may also find that you would rather be alone than around others.
Acceptance: This is a hard stage to reach, even with a lot of counseling, scripture study, and prayer. Once you have gotten to the point where you realize you are doing the best thing for the baby and yourself, it becomes important that your values are adhered to, and the family you choose shares them.
Assisting you in finding a family or individual who shares the values you hold dear: To find a family that fits the criteria you have set forth, the main one being your belief system, Gladney gathers the information on what you are looking for and will not stop until you have made a perfect match with a family. They assist in filtering through many profiles using photo listings, videos, and other instructions about families you find interesting. They help you find families who have completed all of the following: extensive background checks to be certain the families they provide do not have a criminal record, orientations so the prospective adoptive parents know what to expect, interviews by Gladney personnel to understand the preferences as far as the birth mother and what they are looking for, and passed the home study test that all who wish to adopt have to complete. 
Financial and medical assistance: When a young woman finds herself in an unplanned pregnancy situation, she may not have the financial or medical coverage she may need. Gladney helps by paying medical bills, providing housing (they give you a place to stay– a lot of times in a dorm-like situation), and taking care of any other financial support needed. 
These are just a few adoption aids Gladney Center for Adoption provides as far as Christian adoption services. 
How Are Christian Adoption Services Different from Secular Agencies?
Against Abortion: When using Christian adoption services, most women who want to place their baby for adoption through this kind of agency have probably already thought about abortion as an option. Still, most Christian adoption agencies do not believe in abortion, meaning they believe every child deserves a chance at a good life. They are there to help both birth parents and prospective adoptive parents when choosing in regards to adoption.
Christian adoption services believe in the power of the Bible: They believe the majority, if not all, answers to life's questions, and the perplexing idea of placing your baby for adoption, or even adopting or fostering a child, can be found there. There is a wonderful area in the back of the Bible where you can find topics such as "adoption" that will lead you to scripture that can help in your dilemma.
Give the birth mother power: These agencies believe in and applaud what the expectant mother is doing, and they can give birth mothers power that she may feel she no longer has. A birth mother choosing to place her baby for adoption may feel like she has no power or control over her life and what is happening. Christian adoption services do what they can to help the birth mother regain some of that control and power.
Care after birth: Christian adoption services tend to be there for you after you have given birth. They do not abandon you, expecting you to figure out your new normal by yourself. They provide post-adoption counseling to help you deal with a new set of emotions, even if you thought you would be fine after your baby is placed in the care of their forever family. A baby is the only person that feels your heartbeat from the inside. That creates a bond that only you, the birth mother, and your baby share. There will be feelings you thought you had dealt that crop back up afterward. Christian adoption services also help you find a job, or if you have not finished school or have gotten your GED, they help with that.
Christ-like love: They do their best to show Christ-like love, for they believe that no matter what someone has done, "You should treat others the way you want to be treated." This means that they treat you as God would. You are a child of God, and the baby you carry comes from Him.
Christian employees: Christian adoption services have social workers that are Christian. They not only want what is best for you and your baby, but they will pray with you, about you, and for your baby. They pray your situation is resolved smoothly, causing the least amount of emotional damage possible.
Prioritize marriage: They believe that most marriages, especially solid and good ones, make for the best adoptive parents. Some do not believe that this is a dealbreaker, but some do. It's a matter of finding the right Christian agency that suits your needs.
They are extremely family-oriented: They believe a happy family will benefit your baby in the long run rather than a single individual. They do not have anything against individuals adopting, but family is the focal point of most services.
Interview with Birth Mother Stephanie Stevens
Hi Stephanie! Thank you so much for doing this! I appreciate it.
1. Would you mind telling your story first?
Got pregnant at 18, waited until I was eight months pregnant to be "okay" talking to an agency. My mom found them in a phone book. Lol. I wanted to keep the child as it was the easiest emotionally; my boyfriend knew I would have an abortion, so he pushed adoption. My mother was an alcoholic, and his parents were verbally abusive, and I was still in high school, so I figured adoption would be best. I went with a Christian agency because I wanted the child to have a solid faith-based foundation that I did not.
2. What are some of the services provided?
They offered counseling to see if this is what you wanted. They let you decide what ethnicity, religion, family size, location, and open, semi-open, or closed adoption.
3. What makes those services different than secular adoption agencies?
I'm not entirely sure what makes them different from secular, aside from the fact that all [were] adoptive families and [had] to be faith-based.
4. What makes them the same?
I did not interview other agencies, so I am unable to compare the differences and similarities.
5. How did they work with you before, during, and after adoption?
They provided counseling to see if this was what you wanted/best fit. And they checked in multiple times, almost every day for two weeks, until I signed the paperwork to help me process if this was something I still wanted once the baby was here.
During the pregnancy, they let me meet with other birth moms who had already gone through the process to ask questions and give advice. I also got to meet the families they had chosen.
After everything was finalized, they checked in maybe three times, and that was it; however, they asked us to come and speak to potential adoptive parents, so they had another perspective.
6. Did they provide educational information or classes for you?
They did not provide classes or educational information that I can recall other than why adoption over abortion.
They let us meet the adoptive parents to get to see if we liked them in person, not just on paper.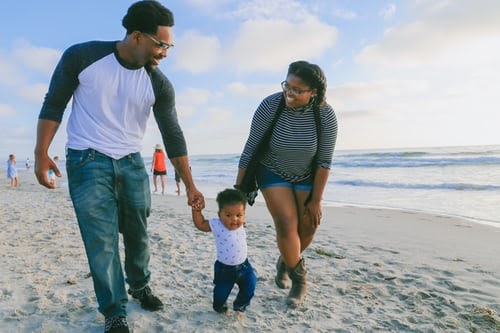 Although secular and Christian adoption services are similar, there are a few things that are different. In the long run, both want to aid birth parents and prospective adoptive parents through the grueling aspects of adoption with as much kindness and grace that they can show.
Disclaimer: Although this article is written to showcase some of the services Christian adoption agencies provide for both the birth parents and prospective adoptive parents, you want to do your research into which kinds of services fit your needs.
Are you considering adoption and want to give your child the best life possible? Let us help you find an adoptive family that you love. Visit Adoption.org or call 1-800-ADOPT-98.
Jenn Martin-Wright is a cowboy, jean-wearing, country music and rock-loving cowgirl who loves books and jewelry. She was born three months too early with a disability that should have taken any semblance of a normal life from her. Her mom made sure Jenn did everything she was capable of. Coming from a big family, it was either keep up or get left in the dust. Jenn graduated high school, then went on to getting married, having kids, and receiving a BS in Social Work. Jenn lives in Idaho with her kids and a Maltese named Oakley who has become her writing helper as she writes novels under an alias of different genres.